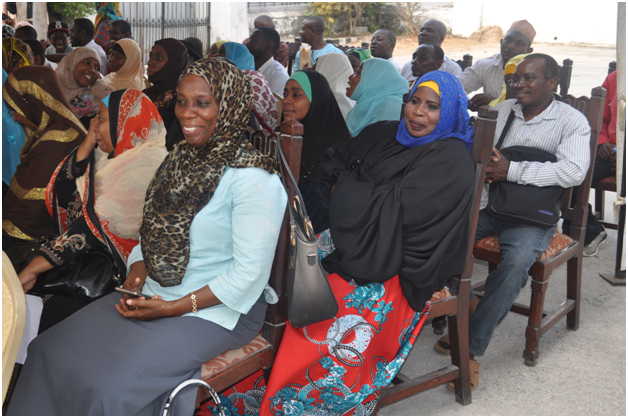 Museums Division: It has six museums which are:-
1. House of Wonders Museums (2002). 2. Palace Museum (1994).
3. Pemba Museum located at the Old Fort in Chake (2005).
4. Peace memorial museum located at Mnazi Mmoja (1925) and Natural and History museum (1930).
5. Kuumbi site museum
6. Unguja Ukuu site museum

In history the first museums started in 1925, known as Beit Al Aman '(Peace Memorial Museum)'situated at the Mnazi mmoja area. This museum built in remembrances of the First World War victims in 1914 – 18.
After the Revolution another museum started such as Palace Museum at the Forodhani and Chake chake museum in Pemba. In 2002, Government shifted the Mnazi mmoja museum to "Beit al Ajaib" house of Wonders and Mnazi mmoja remains as a Natural museums only.
The decision to use house of wonders as a National museum came with a big hope, because now this museum is well known not only in East and central of Africa but also rest of the World. So many visitors from different places visit the museum.


Division responsibilities

• To teach societies on culture, heritage, ancestors, political development, technology economy etc.

• Museums' provides information to researches and students in the different field.

• This museum helps a lot boosting tourism sector and increase Government income.

• Museum Division with its educational unit has mission collaborate with private and Government sector prepare education tour in museums and historical sites.

• Statistics shows that 600 to 1,500 students visit museums every month.

• In 2009 -10, 8,586 students from primary, secondary and college visits museum. Educational unit in the museum provides advice, research information for students from educational institutes.

• Museum division also conducts historical researches with the aim of discovering and collecting valuable data that help to prepare the topics that are taught in a special class underlying the main museums in Beit al Ajaib. It is a class with using modern equipment like projector screen etc.,

• Prepares and displays permanent and temporary exhibitions concerning historical and culture.

• Among the exhibits includes Sultan's life (in Palace Museums), the exhibition of biodiversity (Natural Historical Museum), an exhibition of Stone Town, Maritime Exhibition, Sayyida Salme exhibition, Clothes, Culture, Commercial empire etc.

• In additional, these museums become a major attractions and entertainment for Community and visitors.
---