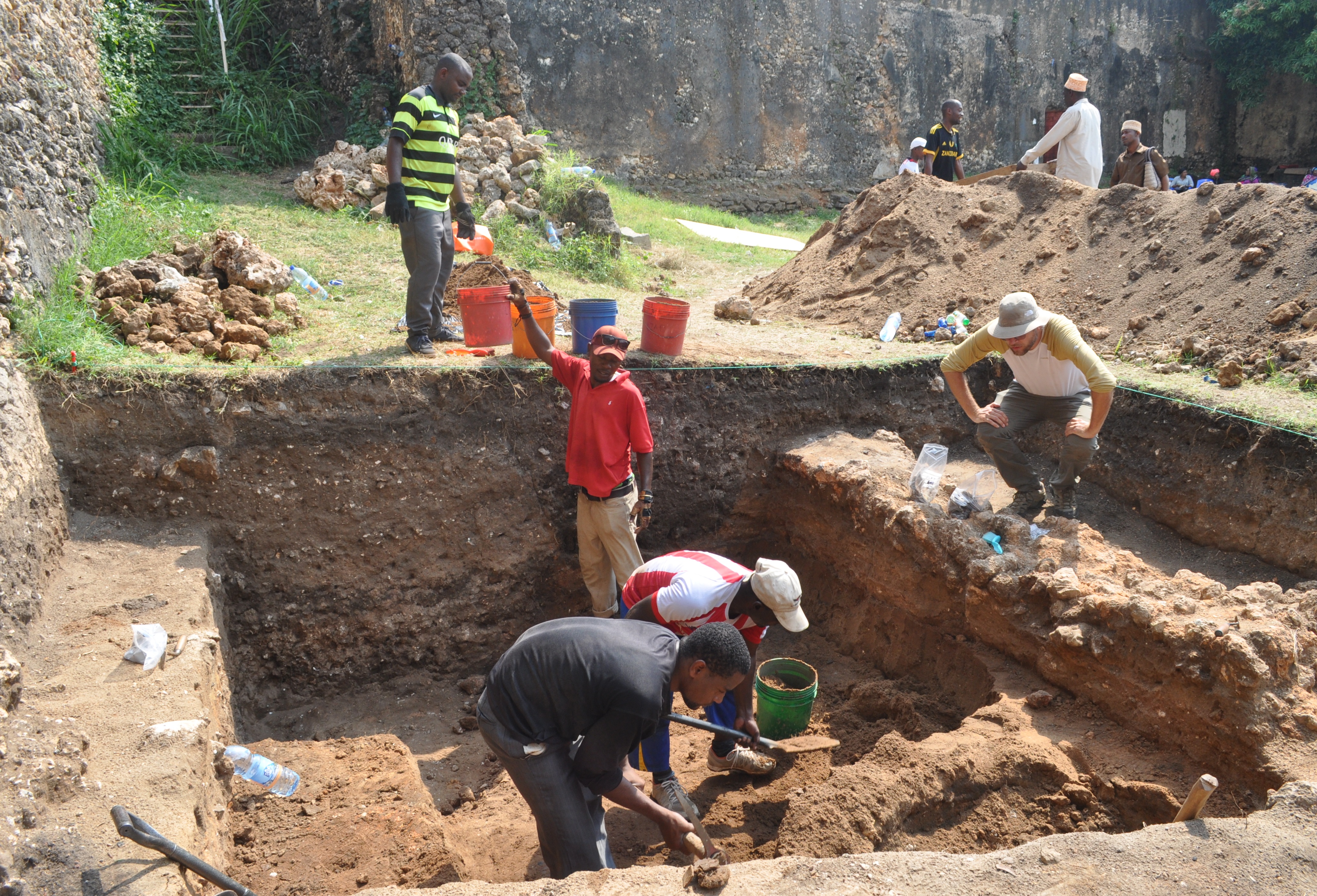 The Antiquities is one among the divisions within the Department of Museums and Antiquities, responsible for conserve, presentation and develop historical sites that have been protected legally under the 2002 Act no. 11, which wrote in 2003 There are 85 sites, including Historical Caves protected by law. Roles are as follows. a) To initiate, to develop and to review policy and cultural heritage law.
b) Collecting, documenting and conserving architectural heritage including traditional structure.
c) Co-ordinating and performing archaeological research and related activities. d) Issuing permits to local and foreign researchers for excavation and collections of objects.
e) Among the division of antiquities role is to conduct archaeological research. The sites which excavation took place are old town of Unguja Ukuu, Machaga caves, (Pete), Kuumbi (Jambiani), Mwannampambe (Makunduchi), Haroun Ruins at (Chwaka), Ras mkumbuu (Chake chake) At recently, our experts work together with experts from University of Dar es salaam did research at the Kiwengwa cave whereby many objects were collected and now there are in the process of analysis. From that research artefacts were recovered. Some of the findings helped to understand importance of historical information ancient of Zanzibar history and its development. For example the oldest city of east African coast of Unguja Ukuu which started in 500 A.D. and the Zanzibar history started since 20,000 ago before Christ.

1) Approving proposals related to restoration, rehabilitation, documentation of historical monuments and sites 2) Advising the Department, Government and other stake holder on research and conservation issues related to cultural heritage and Historical sites.
3) 85 historical sites in Unguja and Pemba have been gazetted under the legal Act. Among of the sites in Unguja are Khole Ruins, Beit el Ajaib, Changuu Island, Chapwani Island, Chumbe Island and machaga cave, Kuumbi cave, Mwanampambe cave etc.
In Pemba are Misali Island, mitondooni panza, banani, bandari kuu, msikiti wa bohara, kiliwa makoongwe etc.
• To collaborate with other development partners such as MACEMP and other stakeholders, providing and encourages education to societies in the importance of their donation to cultural heritage within country in general. • In order to reach its responsibilities, the division of Antiquities work together with societies to protect and preserve historical sites especially most of the sites are in the rural area.
• Education provided helps to find small society groups dealing with conserve and protect the historical sites for the future development. These groups are at the maruhubi, fukuchani, pete, bungi, kuumbi, chuini in Unguja. And in Pemba are ndagoni, ole mandani, chwaka tumbe, pujini, chambani, vitongoji mkomani and vitongoji kijumbani. These steps help by cleaning and maintenance all old buildings without destroy its natural and uniqueness for the future development such as Ruins of Maruhubi, Ngome Kongwe of Portuguies (Fukuchani), Chuini Ruins, Old Mosque at Kizimkazi etc. • Societies benefits by employed themselves and increase their income that come from visitors entrance fee. These helps to appreciate cultural heritage resources and the treasure of the Nation.
---
ENEO/JENGO MWAKA 1. Mahodhi ya Kidichi 1941 2. Magofu ya Washirazi – Tumbatu 1941 3. Msikiti wa Washirazi – Kizimkazi 1941 4. Magofu ya Fukuchani 1941 5. Nyumba za Wareno - Mvuleni 1941 6. Chemba ya Watumwa – Mangapwani 1941 7. Kasri ya Mwinyi Mkuu – Dunga 1941 8. Msikiti wa Washirazi – Msuka 1943 9. Msikiti wa Washirazi – Mkia wa Ng'ombe 1943 10. Nyumba ya Washirazi – Mkia wa Ng'ombe 1943 11. Msikiti wa Washirazi – Mduuni 1943 12. Nyumba ya Washirazi – Mduuni 1943 13. Msikiti wa Washirazi – Ndagoni, Ras Mkumbuu 1943 14. Msikiti na Gofu la Mazrui – Chwaka, Tumbe 1943 15. Nyumba ya Washirazi – Ras Mkumbuu 1943 16. Gofu la Washirazi – Pujini 1943 17. Msikiti wa Washirazi – Chwaka, Tumbe 1943 18. Nyumba ya Livingstone 1945 19. Kisima cha Washirazi – Kwahani 1946 20. Kasri ya Maruhubi 1957 21. Kasri ya Mtoni 1957 22. Kaburi na Ukuta wa Kale – Vitongoji 1957 23. Kanisa Kuu la Anglikana – Mkunazini 1979 24. Mahodhi ya Hamamni 1979 25. Kanisa la Anglikana - Mbweni 1979 26. Msikiti wa Bamnara – Malindi 1979 27. Ngome Kongwe 1979 28. Mabaki ya Kasri ya Sultani Said – Beit- Ras 1979 29. Eneo la Mji wa Kale - Unguja Ukuu 1986 30. Magofu ya Nyumba za Zamani – Kizimkazi 1986 31. Mahodhi na Eneo lake – Chwaka 1986 32. Mahodhi na Eneo lake – Kizimbani 1986 33. Magofu ya Nyumba ya Mfalme – Chuini 1986 34. Magofu ya Kiwanda cha Sukari – Chuini 1986 35. Magofu ya Nyumba ya Mfalme – Chukwani 1986 36. Eneo la Mji wa Kale, Shangani – Mkokotoni 1986 37. Makaburi ya Zamani na Eneo lake – Shakani 1986 38. Makaburi ya Kifalme – Forodhani 1986 39. Gofu la Msikiti Mkongwe – Kimeleani, Kisiwani Fundo 1986 40. Eneo la Mji wa Kale, KIsiwa cha Mtambwe Mkuu 1986 41. Gofu la Msikiti Mkongwe na Eneo lake – Kiungoni 1986 42. Magofu ya Mji wa zamani - Ole Mandani 1986 43. Gofu la Msikiti Mkongwe na Eneo lake – Shamiani (Kisiwa cha Kiweni) 1986 44. Magofu ya Mji wa Zamani – Jambangome 1986 45. Gofu la Msikiti Mkongwe – Mtangani 1986 46. Magofu ya Msikiti na Kaburi - Chambani Mjini 1986 47. Gofu la Ngome ya Wareno na Mizinga - Chake Chake 1986 48. Msikiti Mkongwe – Kiuyu 1986 49. Gofu la Msikiti Mkongwe – Kiwani 1986 50. Gofu la Nyumba ya Waarabu wa kabila la Miskiri – Finga 1986 51. Msikiti Mkongwe – Kojani 1986 52. Msikiti Mkongwe Micheweni – Shumba 1986 53. Msikiti Mkongwe – Wingwi 1986 54. Msikiti Mkongwe – Micheweni 1986 55. Eneo la Mtule – Kengeja 2002 56. Pango la Mwanampambe 2002 57. Magofu ya Bikhole na Eneo lake – Bungi 2002 58. Kisiwa cha Changuu 2002 59. Kisiwa cha Pwani 2002 60. Kisiwa cha Chumbe 2002 61. Nyumba ya Maajabu – Forodhani 2002 62. Pango la Machaga – Pete 2002 63. Pango la Mangapwani 2002 64. Mbweni St. Mary's School 2002 65. Peace Memorial Museum – Mnazimmoja 2002 66. Pango la Kuumbi – Jambiani 2002 67. Mahandaki ya Mangapwani 2002 68. Kisiwa cha Misali – Misali 2002 69. Old Tumbe 2002 70. Mitondooni – Panza 2002 71. Nyumba wa Wageni – Chwaka 2002 72. Nyumba ya Balozi wa Kiingereza – Chwaka 2002 73. Mnara wa Ras Kigomasha 2002 74. Matumbi Makubwa – Makoongwe 2002 75. Banani – Wesha 2002 76. Eneo la kihistoria - Mjini Msuka 2002 77. Bandari Kuu – Chake Chake 2002 78. Msikiti wa Bohora - Chake Chake Mjini 2002 79. Msikiti wa Chake Chake Mjini 2002 80. Dongoni Mission - Wesha 2002 81. Kaliwa – Tumbe 2002 82. Makoongwe 2002 83. Msikiti na Makaburi – Kichokochwe 2002 84. Eneo la Shamiani – Mwambe 2002 85. Kimimba – Kijichame 2002
---